Hollywood was on temporary pause but productions are gearing back up, release dates continue to be tweaked in preparation for theaters reopening, and things are slowly starting to return to normal – or at least, our temporary new normal. Movie news is once again starting to flow, with us bringing you a few hand-picked stories we think you'll like.
Let's hop to it.
Will Poulter Cast as Adam Warlock For 'Guardians of the Galaxy Vol. 3'
In a major bit of casting news, it's been revealed that Marvel has finally found their Adam Warlock. Deadline broke the news that Will Poulter has been cast in the role for Guardians of the Galaxy Vol. 3 with director James Gunn confirming via tweet. Beating out other finalists like Regé-Jean Paul (Bridgerton) and George McKay (1917), Poulter's casting is something of a surprise. The role of Adam Warlock has been long-rumored since before 2017's Guardians of the Galaxy Vol. 2, and a number of names have swirled around the internet in terms of fan casting and potential hopefuls for the role, and Will Poulter was nowhere on those lists. Nor is he necessarily what fans might picture when they think of the character who was built to be a superlative, perfect specimen of a human.
But Poulter is a deeply talented actor with a wide range of projects under his belt, starting out in the industry when he was just a kid playing the annoying Eustace Scrubb in the Chronicles of Narnia movies. Since then, he's proven equally adept at comedy, with projects like We're the Millers and School of Comedy on his resume as he is at action-packed blockbusters, such as his role of Gally in the Maze Runner series, as he is at intense drama, as with The Revenant and Detroit, to cerebral horror playing Mark in Midsommar to interactive Black Mirror episode "Bandersnatch." Despite his already impressive resume, anyone who has watched Poulter act gets the sense he's only barely scratched the surface of what he can do. The combination of his talent and Gunn's uniquely eccentric vision for the third GotG movie is a really intriguing prospect, indeed. The movie is set to hit theaters on May 23, 2023.
David Gordon Green Directing Movie About Building Of Disneyland
In another Deadline exclusive, the news broke that David Gordon Green (Halloween franchise, Our Brand Is Crisis) will direct a movie for Disney revolving around the story of Walt Disney's road to conceiving of and making Disneyland a reality. Longtime Disney scribe Evan Spiliotopoulos is set to pen the script for the project, which was developed for a full year before the pitch was even brought to Disney. Walt Disney's dream of building "The Happiest Place on Earth" began in 1953 when he bought a 160-acre site near Anaheim. Ground broke and construction began in 1964 and the park officially opened on July 17, 1955. However, Disney had been dreaming of such a place since at least the late 1940s, then referring to the dream that would one day become Disneyland as the Mickey Mouse Parks.
With the new Walt Disney biopic, which is reportedly being developed for Disney+, Green is taking a big swerve away from his film resume in recent years, which has been steeped in horror since his 2018 Halloween legacy sequel and the upcoming Halloween Kills, along with the Exorcist sequel and the Hellraiser TV series, both of which are in the works. It will be interesting to see how he tackles a family-friendly biopic now. For those interested in Halloween Kills, by the way, it hits theaters this weekend; you can get tickets for it here.
Chief Creative Officer Alan Horn Retiring From Disney
In even bigger Disney-related news, longtime Chief Creative Officer and Co-Chairman of Disney Studios Alan Horn is officially retiring at the end of the year. Horn came to Disney in 2012 after he was unceremoniously let go from Warner Bros. From the start, his impact was immediate, with Horn quickly steadying a studio ship that was in tumult after the departure of Rich Ross and a string of costly, high-profile flops and underperformers. Horn's tenure at Disney has overseen arguably the most successful period of growth and stability for the studio ever.
Horn helped navigate Disney's acquisition of Lucasfilm and 20th Century Fox and helped guide the Marvel Cinematic Universe in its early Phase 1 days to the juggernaut it is now. In later years, he helped orchestrate a shakeup at Marvel Entertainment and ensured that Marvel Studios President Kevin Feige would report to him rather than longtime Marvel Entertainment CEO Ike Perlmutter, whose tight-fisted approach and open disdain for female- and POC-led movies were holding Marvel Studios back. He also was instrumental in making smooth a transition that might have been disastrous after he fired Pixar and Disney Animation head John Lasseter after numerous allegations of sexual misconduct broke. Astutely, Horn and then-Disney CEO Bob Iger broke Pixar and Walt Disney Animation up into two separate departments, with Pete Docter leading Pixar and Jennifer Lee leading Disney Animation. Under Horn, Disney launched its streaming platform, Disney+, which has been unquestionably successful since its rollout. Clearly, Horn's influence on Disney Studios has been immeasurable. Despite that, there are no plans to replace Horn as CCO right away, and longtime Co-Chairman Alan Bergman will take over their previously shared role. The reasoning is that Horn has done such a good job of building stability into each of Disney's properties that they can now more or less run themselves with less oversight than might have been required before. Eventually, Disney will likely find a new CCO, but for now, Horn's impressive legacy will stand on its own when he leaves on December 31st.
'No Time To Die' Opening Weekend Box Office Is A Hit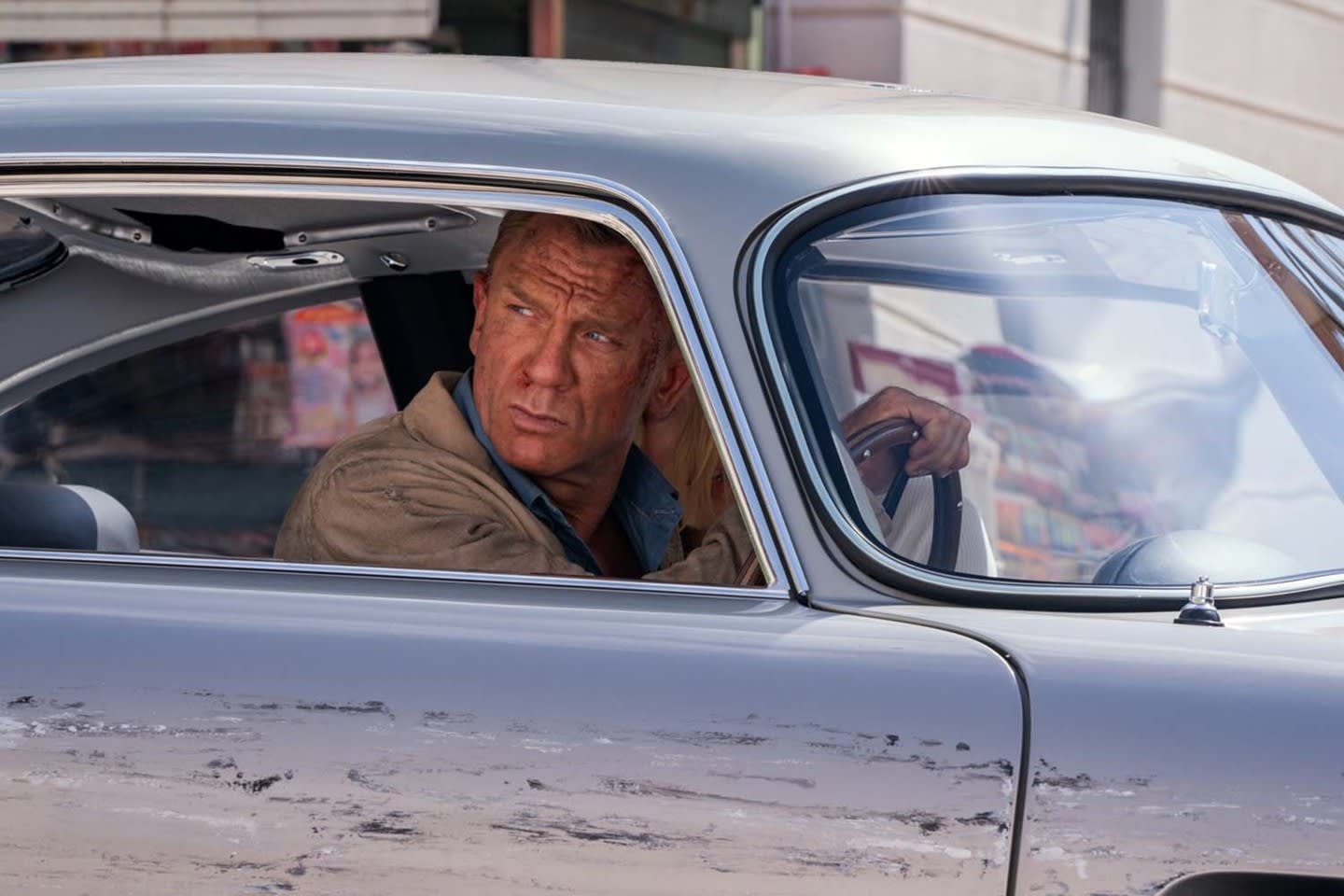 Despite competing with college football and the NFL, along with the MLB Playoffs, No Time to Die was a success in its domestic opening weekend. The four-day total for the film (that includes Monday's Columbus/Indigenous Peoples' Day) came to $62 million, or $55.2 million for the traditional three-day opening. That may seem like a huge disappointment to those who took the wilder estimates of an $100 million opening weekend from less trustworthy sites to heart, but it's only slightly lower than the $60 to $70 million projections from the trades.
No Time to Die succeeded in what is still a pandemic-corralled world in one other significant way, as well. Internal studio polling from MGM showed that for audiences age 35 and above, Daniel Craig's last outing as James Bond is the first film they've seen in theaters in two years. That bodes well for theaters as it indicates that there is yet a greater audience and more demographics that have yet to come back to theaters as compared to the younger-skewing audiences that turned out for Shang-Chi and Venom 2. The proof is there: If the movie is buzzy enough, even older, more Covid-hesitant audiences will turn out. That's great news for theaters, which continue to slowly rebuild themselves as more of the country opens and people grow more comfortable with socializing.
First Look At Timothée Chalamet in 'Wonka'
Timothée Chalamet, who is set to play a young Willy Wonka in the prequel Wonka, recently shared a first look at him in the role of the future famed confectioner.
It's a curious choice of costume, one that is decidedly without Willy Wonka's signature eccentric flair that Gene Wilder sported in Willy Wonka and the Chocolate Factory and more a slightly brighter take on Victorian style. On one hand, it begs the question that arises whenever one of these prequel projects are announced: Why would we want to see a movie about an iconic character before they're that iconic character? On the other hand, Chalamet is an incredible talent and he leads an equally talented cast including Olivia Colman, Keegan-Michael Key, Sally Hawkins, Rowan Atkinson, Matt Lucas and more. The team behind Wonka is also world-class, with the Paddington movies' Paul King set to direct, and King and Paddington 2 co-writer Simon Farnaby penning the script together. They're certainly more than capable of bringing the right amount of whimsy and charm that a prequel movie about Willy Wonka needs. Wonka is currently filming, and the movie is expected to hit theaters on March 17, 2023.
Ernie Hudson Hints 'Ghostbusters 4' May Already Be In The Works
Ghostbusters: Afterlife is still a month away from hitting theaters, and already, a sequel might be in the works. Longtime Fox 32 entertainment journalist Jake Hamilton recently spoke to original Ghostbusters and Afterlife star Ernie Hudson and the actor revealed that development on Ghostbusters 4 may very likely quietly be underway. When asked if he'd be willing to do another Ghostbusters movie if asked, Hudson replied, "If they threw it, I would be honored to do it. I've heard rumors they're writing a new one, so we'll see." Clearly, that's not concrete evidence it's definitely happening, and that project is likely to hinge on Afterlife's box office performance. Still, it's unsurprising that Sony would already be developing a sequel, especially for a franchise movie. The Ghostbusters franchise still has the potential to be a cash cow. While 2016's Ghostbusters reboot was a flop, the studio obviously hopes to keep it going with the main franchise now overseen by Jason Reitman, son of original Ghostbusters director Ivan Reitman. It's unclear what the budget is, but it's likely to be considerably under $100 million. Between that and the fact that more people are returning to theaters every week, Afterlife has a strong chance of being a box office success. Fingers crossed I'm proven right in just over a month's time.
Trailers & Clips of the Week
The Black Phone – Official Trailer
For you Marvel fans, this is the project that Scott Derrickson stepped right into after parting ways with Marvel on Doctor Strange 2. It's been a passion project of his and co-writer C. Scott Cargill for years, so it will be fun to see them returning to horror.
Eternals – 'In the Beginning' Featurette
Honestly, Dane Whitman is asking some very valid questions here.
Scream 2022 – Official Trailer
Welcome back, Ghostface.
Home Sweet Home Alone – Official Trailer
Did you spot the original Home Alone Easter egg in the trailer?