The MCU's newest, The Marvels, is flying into theaters after the longest gap between Marvel movies since 2016. With it, Carol Danvers, a.k.a. Captain Marvel (Brie Larson), returns as the arguably most powerful superhero in the Marvel universe. This time, however, she's bringing with her two newer heroes who were introduced in the Marvel Disney+ shows: Monica Rambeau, a.k.a. Photon (Teyonah Parris), and Kamala Khan, a.k.a. Ms. Marvel (Iman Vellani). When the three suddenly find their energy-based powers becoming entangled, they start swapping places every time they use them. Aided by Nick Fury (Samuel L. Jackson), they have to work together and figure out how to become a team to take out the galaxy's next big threat: Dar-Benn (Zawe Ashton).
Despite the astronomical success of the first Captain Marvel movie and Carol Danvers growing in popularity, The Marvels has been flying somewhat under the radar. Still, you shouldn't sleep on the sequel, because it's far better than the first movie and offers a lot to love in its tidy run time. Read on for three reasons to see The Marvels this weekend.
It Remembers That Marvel Movies Are Allowed To Be Fun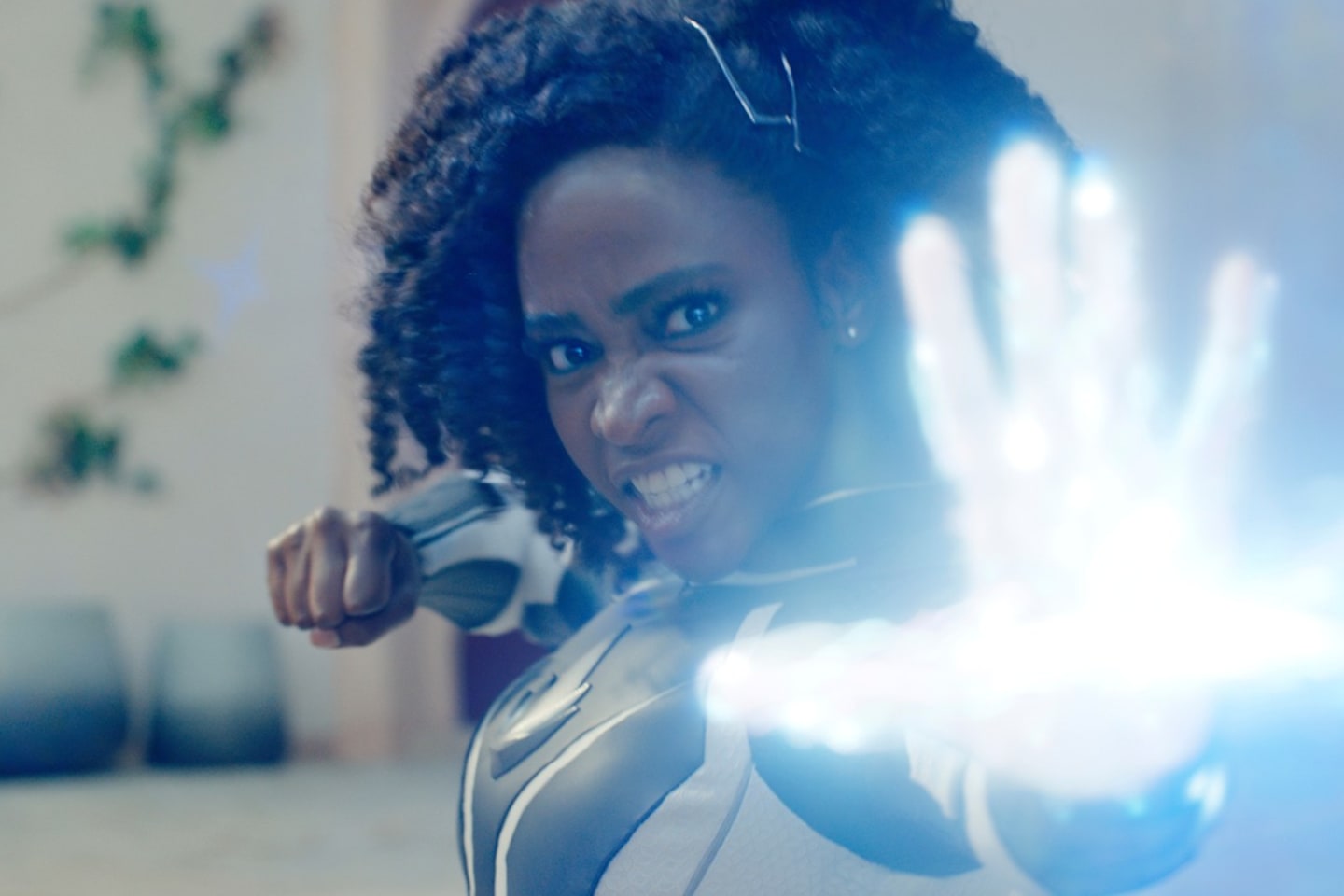 Most Marvel movies are entertaining; that's been Marvel's thing. Somewhere along the way, though, as the MCU marched toward Avengers: Engdame and then spent a few years dealing with the aftermath, the MCU forgot how to be fun. Make whatever reductive comparisons you'd like about the formerly self-serious DCEU and the always-jokey Marvel, but it's hard to argue that the Endgame era was pretty dang grim – seeing half a universe of beloved heroes dusted right in front of you and the rest dealing with their grief will do that.
Thankfully, The Marvels, despite an admittedly messy plot, remembers that it's possible for comic book movies to have stakes while also maintaining a sense of joy. Director Nia DaCosta leans into the wacky, knowing full well that The Marvels is a comic book movie and treating it as such. It remembers that it's a sci-fi, space opera superhero movie and actually allows itself to be. It helps that the trim run time of an hour and 45 minutes helps keep the movie from being bogged down in the existential angst that has plagued Marvel movies in recent years. Instead, the three heroes are allowed to literally and figuratively fly, reminding themselves – and us – why being a superhero is worth it.
The Chemistry Between The Three Leads Is Delightful
Undeniably, much of the movie's energy comes from the irrepressible Kamala Khan, who is just thrilled to be playing superhero with her idol. One thing Marvel has virtually always nailed is its casting, but even the studio known for savvy actor choices knocked it out of the park when finding Iman Vellani. Those who watched the Ms. Marvel series will already know this, but Kamala injects every interaction with a youthful enthusiasm that is contagious. It's hard not to watch the movie through her eyes.
The relationship between Monica and Carol is a little trickier to navigate. After all, Carol was Monica's surrogate aunt until she disappeared into the galaxy and didn't return. Understandably, Monica is a little salty about that and not quite ready to embrace the woman she no longer knows. As for Carol, she's…tired. Unlike Monica and Kamala, Carol has been superheroing for years as Captain Marvel and the thrill of being a hero has worn off for her after decades of bearing that heavy burden. She's a little jaded, and you get the sense she's experiencing a bit of an internal crisis about whether what she does matters or makes things worse.
The found family aspect of The Marvels changes all three of them for the better. Kamala Khan grows up a bit, Monica Rambeau learns to forgive, and Carol Danvers remembers why she chose to be a hero. Even before their rough edges wear off, you get the sense that the three are destined to fit together like puzzle pieces. They're a natural-born team, even if it takes them a while to get there. But with how good their chemistry is, the getting there is half the fun of the movie.
Long Live Goose And The Flerkens
Have no fear, everyone. Goose, the cat-who-is-really-a-Flerken, returns in The Marvels. This time, Goose has much more screen time, particularly in a sequence set to "Memory" from Cats which is unlike anything we've seen in a superhero movie before (and probably ever will). Without speaking a world, just like cats in reality, Goose steals the scenes she's in. By the way, did I mention there are Flerken kittens this time around?
Yes, there is an army of Flerken kittens. They are exactly as chaotic as you might expect. It all helps add to the weird, wonderful edge that Nia DaCosta has infused into The Marvels, the most endearing Marvel movie in years.