Guillermo del Toro's Nightmare Alley hits theaters soon, and those in the know are excited. Focused on writing, production, and TV, this is the first film del Toro has directed since 2017's Oscar-winning The Shape of Water and audiences are eager to see the ever-inventive director and storyteller back on the big screen. The Mexican-born director's star has steadily risen in Hollywood over the past few decades to become a fan-favorite thanks to his deep love of genres like horror and superhero movies, and for his visual flair and use of practical effects.
Now he's back with his newest entry, an adaptation of the 1946 novel of the same name by William Lindsay Gresham, which was already adapted into a movie back in 1947. This time, del Toro is diving into his first purely noir entry and so far, it's been getting solid reviews for its polish and style. Between Spider-Man and Spielberg, Nightmare Alley just may be the best movie of the holiday season for a few reasons.
The 'Nightmare Alley' Cast Is Insanely Stacked
The most intriguing draw of Nightmare Alley is by far its cast, which is absolutely gobsmackingly packed with talent from its A-listers to its supporting character actors. Leading the way are Bradley Cooper as Stanton "Stan" Carlisle and Cate Blanchett as Dr. Lilith Ritter. Stan is an ambitious but small-time drifter who happens to have a talent for tricking people, and he aspires to pull off a bigger con while working for a carnival. When he meets Cate Blanchett's psychiatrist Lilith Ritter, Stan recognizes someone who shares his talent for deception and they're soon in a partnership together. However, Lilith is far more dangerous and manipulative than Stan ever could have dreamed, and he's soon trapped in a hellish nightmare that threatens to not only ruin his grand plans but also unravel his very sanity.
Though Cooper and Blanchett are the headliners, however, the rest of the supporting cast is equally as excellent. Adding to the great dynamic, a number of them have worked with del Toro before on previous films including Crimson Peak, The Shape of Water, and Hellboy.
Toni Collette as Zeena Krumbein – Zeena is the carnival's mentalist, whose show is based on memorizing verbal cues to appear as though she has psychic abilities. Though she recognizes Stan is a potentially dangerous individual, she teaches him the art of cold reading in order to elevate his talent for manipulation to the next level. Collette is one of our greatest living actresses, and when she's in a movie, whether it's Hereditary, Get Out, or Little Miss Sunshine, she does nothing less than draw your attention when she's on the screen.
David Strathairn as Peter "Pete" Krumbein – Pete is Zeena's husband, accomplice, and helper in her mentalist act. The pair of them had developed their "code act" over the years, developing verbal cues and codewords to fool the audience. Strathairn is an immensely well-respected character actor, one who is hard to place but has been in everything from TV to movies, completely disappearing into roles. Those roles include Commander Klaes Ashford in The Expanse, Noah Vosen in the Bourne movies, and William Seward in Lincoln.
Willem Dafoe as Clement "Clem" Hoately – Clem is the barker, responsible for luring in guests and rubes alike, as well as the one who first introduces the drifter Stan to the carnival. Dafoe really needs no introduction. While he's best known for playing Norman Osborn/Green Goblin in the Spider-Man movies (and will again in Spider-Man: No Way Home), his extensive career also includes Aquaman, John Wick, The Grand Budapest Hotel, Once Upon a Time in Mexico, The Boondock Saints, and more.
Rooney Mara as Molly Cahill – Molly is the carnival's beautiful and naive Electric Girl, whose act is to appear as though she's being zapped with thousands of volts of electricity and emerging unscathed. She and Stan soon fall in love, and he convinces her to leave the carnival in order to do a traveling, two-person "code act" like Zeena and Pete used to. Mara is a versatile actress known for the American remake of The Girl with the Dragon Tattoo, along with The Social Network, Ain't Them Bodies Saints, and Youth in Revolt.
Ron Perlman as Bruno – Bruno is the carnival's strongman and, at least in the book, is Molly's possessive and jealous boyfriend. Perlman is best known for his work as the titular Hellboy in del Toro's movies, but the lantern-jawed actor with the gravelly voice is also famous for his long-running role as gang patriarch Clay Morrow on Sons of Anarchy.
Tim Blake Nelson as Carny Boss – The chameleon-like Tim Blake Nelson is the carny boss, the one who calls the shots and runs the show. Nelson is one of those actors who has been in everything you can't name, but his most notable recent role was in the Watchmen miniseries, where he played Wade Tillman/Looking Glass. He also played the titular character in The Ballad of Buster Scruggs, Wayne in Billy Lynn's Long Halftime Walk, and Samuel Sterns in The Incredible Hulk, among others.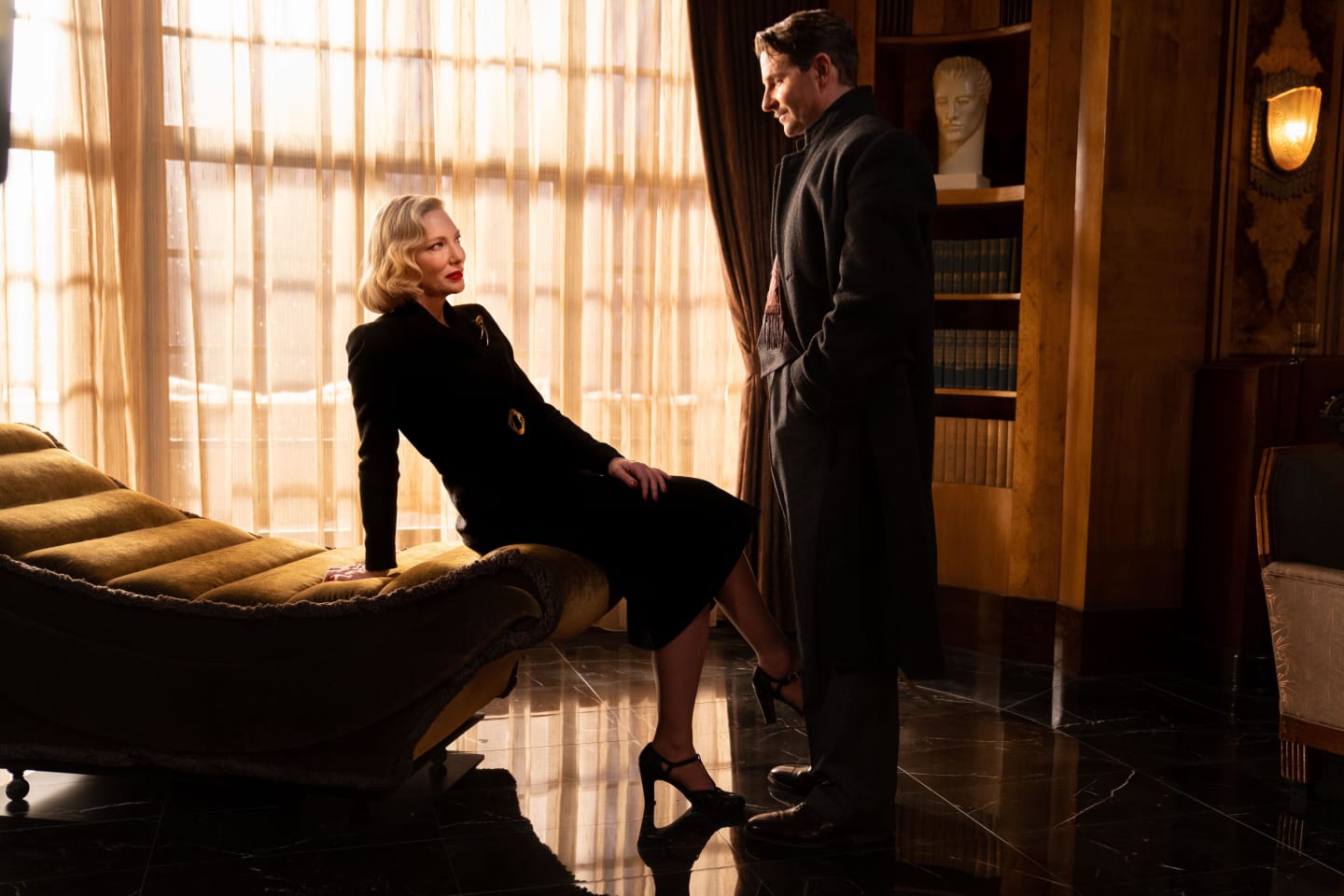 Mary Steenburgen as Miss Harrington – Miss Harrington is a wealthy client who hires Stan to perform for a show but isn't as altruistic as she appears. Mary Steenburgen's long career including playing Clara Clayton in Back to the Future Part III and its spinoff TV series, Belinda Conine in Philadelphia, and other notable roles in Elf, The Help, Justified, The Last Man on Earth, and Zoey's Extraordinary Playlist.
Richard Jenkins as Ezra Grindle – Ezra Grindle is a wealthy businessman in Chicago that Stan and Lilith aspire to con out of a huge sum of money, but it goes awry. Like Strathairn, Jenkins is another celebrated character actor who has appeared in movies such as del Toro's The Shape of Water, White House Down, The Cabin in the Woods, Burn After Reading, and TV shows like Six Feet Under and Berlin Station.
Jim Beaver as Sheriff Jedediah Judd – Sheriff Judd is a lawman who starts to suspect Stan of swindling people out of their money. Beaver is in the beloved character actor camp with Jenkins and Strathairn. He's best known (and most loved) for his long-running role as Bobby Singer on Supernatural, and is also known for Justified, Deadwood, as well as del Toro's Crimson Peak.
Holt McCallany as Anderson – Anderson is Mr. Grindle's right-hand man and head of security for his plant. He is not one to be trifled with. Holt McCallany has been in a number of notable projects, his best-known role in recent years playing Bill Tench in Mindhunter. Eagle-eyed viewers will know him as the Mechanic from Fight Club, and other roles like CSI: Miami, The Losers, and Gangster Squad.
Still other notable actors include David Hewlett (Dr. Rodney McKay in Stargate: Atlantis) as Dr. Elrood, Mark Povinelli (Todd in Are You There, Chelsea?) as The Major, and Paul Anderson (Arthur Shelby in Peaky Blinders), Clifton Collins, Jr. (Lawrence/El Lazo in Westworld), and Romina Power (Yolanda Vega in Go Go Tales).
Between Guillermo del Toro and the cast, that's 30 Oscar nominations, 5 Oscar wins, 14 Emmy nominations, 3 Emmy wins, and countless other awards. If you're a fan of movies where there's not a single weak link in the cast, Nightmare Alley is it.
Guillermo Del Toro Is Venturing Into Noir With 'Nightmare Alley'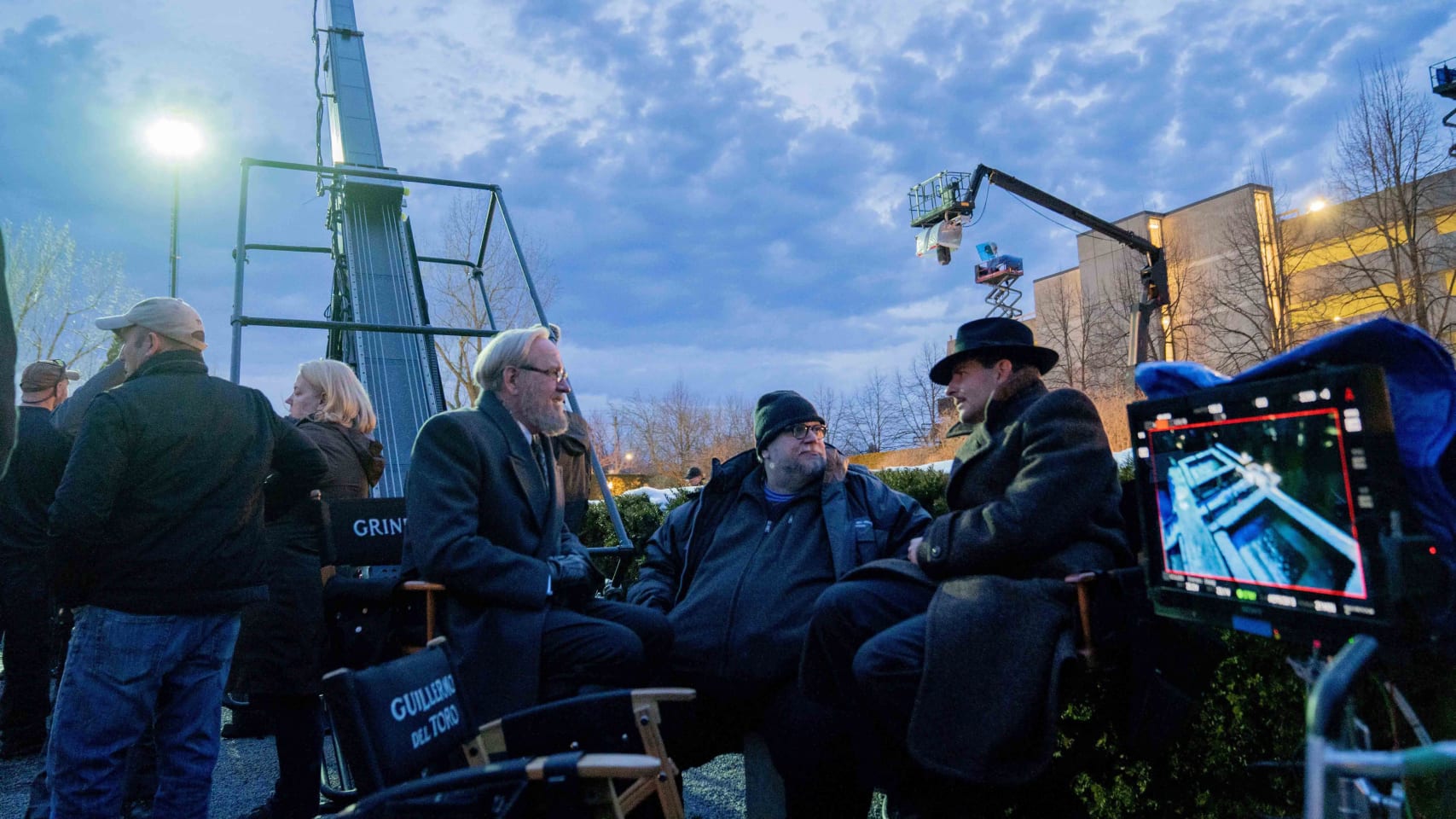 Guillermo del Toro has certainly played around with multiple genres, but dark fantasy and horror have always been his wheelhouse. The past few years have found him mashing up genres and trying things slightly out of his comfort zone, however. 2015's Crimson Peak was a horror-tinged, gothic romance set in 1901. 2017's The Shape of Water was a sci-fi fairy tale set in 1962. Before that, 2013's Pacific Rim was his venture into the giant robot/kaiju action sci-fi genre.
Now, del Toro is trying his hand at a hard noir psychological thriller. The noir visuals are dripping all over the trailers, with the genre's trademark chiaroscuro effect of deep shadows and slashes of light. Still, the look is distinctly del Toro, and that's arguably because he's brought back a few key creative crew members from his Oscar-winning Shape of Water team. They include Dan Laustsen as cinematographer, Shane Vieau as the set decorator, and Luis Sequeira as the costume designer.
Can they make magic again and generate another Oscar win? It's hard to say, but it's impossible to think Nightmare Alley won't garner at least a few Oscar nominations. It's already getting positive reviews for the slick, stylish visuals and great acting fleshing out a pulpy streak. Regardless of whether or not he wins another Oscar for it, Nightmare Alley seems set to remind us that Guillermo del Toro is one of Hollywood's most vibrant and creative directors working today.
—
Nightmare Alley is in theaters on Friday, December 17.
Get tickets to Nightmare Alley.