David Leitch's Bullet Train is soon to hit theaters, bringing with it an action-packed assassin tale. Based on the novel Maria Beetle by Kōtarō Isaka, the story follows an assassin named Ladybug, who is convinced he's cursed after his last mission went horribly awry. To ease him back into the fold, Ladybug is given one seemingly simple task: board a particular bullet train and retrieve a particular briefcase. The problem, as it turns out, is that there are half a dozen other elite assassins on the train, all after the same thing. It soon becomes clear that only one of them will make it out alive.
Soon, an all-out war breaks out as each assassin realizes it's every woman or man for themselves. It's kinetic, it's balls-to-the-wall, it's funny, and it's a rollicking good time aboard the speeding bullet train.
You can get tickets to Bullet Train here.
In the meantime, you can whet your whistle–your train whistle–by perusing our list of some of the greatest movies set on a train of all time.
Train to Busan (2016)
The modern zombie movie craze had all but started to die down when a little movie called Train to Busan came out of Korea and reinvented the genre. Yeon Sang-ho's zombie movie is one of the most incredibly tense and thrilling rides, and, ultimately, more than a little heartbreaking. The character arc of lead Seok-woo, played by Korean star Gong Yoo, from selfish and self-centered corporate climber to devoted father, is as poignant as they come. In between the zombie scares and gore is a sneaky thoughtful movie about the best and worst of human nature, making Train to Busan one of the smartest zombie movies around.
Snowpiercer (2013)
Those Koreans, they sure do know how to make train movies. Snowpiercer, from Parasite director Bong Joon Ho in his first English-language film, stars a stacked cast including Chris Evans, Jamie Bell, Tilda Swinton, Ed Harris, John Hurt, and Octavia Spencer. As with many of his films, Snowpiercer tackles themes of the corruption of the rich being met by subversion from the poor in his post-apocalyptic drama-thriller. In the future, climate change has killed everyone except for those aboard the Snowpiercer, a high-speed train that circles the globe. But as conditions get more tense, a class system once again takes hold, threatening an uprising from the impoverished people at the back of the train.
Murder on the Orient Express (2017)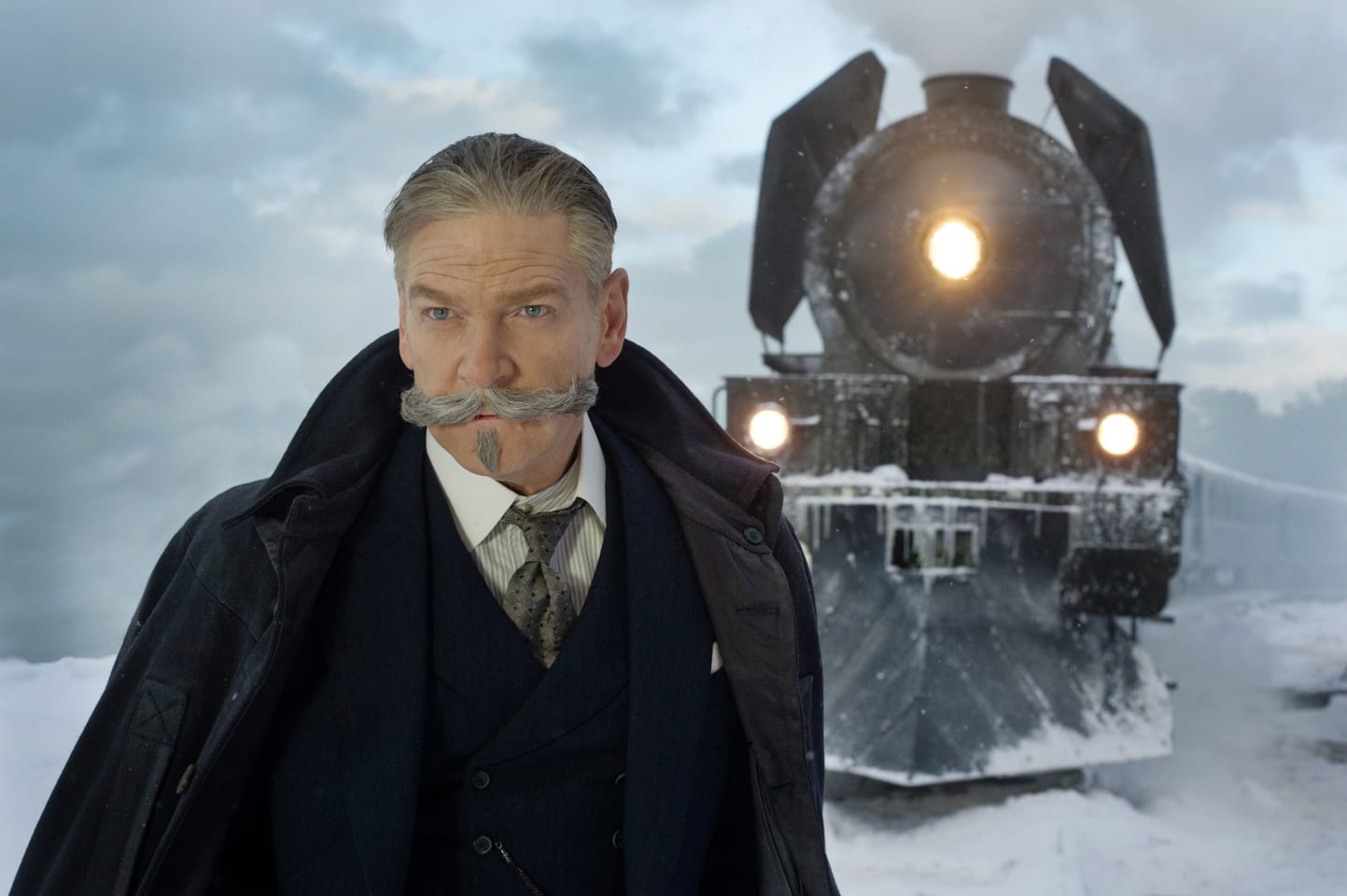 Kenneth Branagh was clearly meant to adapt Agatha Christie. His first adaptation of her work, Murder on the Orient Express, readily showcases Branagh's eye for lush style. As a whodunit, Michael Green's script is a serviceable and engaging adaptation that's faithful to Christie. But the real draw of Murder on the Orient Express is the production design and style. Every car on the luxurious Orient Express is dripping with leather, pearls, feathers and fur. It's as close as one will ever get today to mingling with the ultra-wealthy of the 1930s, making it incredibly entertaining to watch.
Strangers on a Train (1951)
Legendary director Alfred Hitchcock has many movies that are lauded, but Strangers on a Train is rarely one of them. However, this unappreciated thriller is secretly one of the Master of Suspense's best. Amateur tennis star Guy meets a stranger, Bruno, one day on a train and they strike up a conversation. The eccentric Bruno suggests a hypothetical: they swap murders, each of them killing the person the other hates most. Guy plays along, thinking it all a joke, but is soon drawn into a nightmare when Bruno starts appearing everywhere he goes, reminding Guy of their "deal." What follows is a creepy, paranoid thriller about the dangers of talking to strangers and the unsettling reality of being stalked by a madman.
Silver Streak (1976)
1976's Silver Streak may not be the best movie on this list, but it lands here simply because it's the first onscreen pairing of Richard Pryor and Gene Wilder. The dynamic duo went on to be one of the best comedic pairings in Hollywood, and Silver Streak is one of their underappreciated gems. When the pair see someone murdered on their train, they find themselves embroiled in a dastardly conspiracy that would be a straight thriller if it weren't so damn funny. Wilder and Pryor were masters of slapstick and comedic timing, and there are moments that are so comical, you forget their lives are on the line.
The Polar Express (2004)
When Robert Zemeckis set out to make 2004's The Polar Express, he was entranced by the style of the CG animation. Little did he know he was setting out to make a Christmas classic. Thanks to the animation and design, there is a lyrical, haunting quality to the movie. There's a tiny bit of the eerie woven into the tale of the magical train that travels the North Pole, thanks in large part to the bit of uncanny valley the animation triggers. In the years since, it's become one of the most interesting and strange little Christmas movies, beloved by kids around the world for a reason.
The General (1926)
Just about every modern train stunt and action sequence today owes its allegiance and gratitude to Buster Keaton and Clyde Bruckman's 1926 classic The General. The great Buster Keaton stars in the silent film set during the Civil War and his physical gifts as a silent actor are on display in the action-comedy. At the time, it was underappreciated and savaged by critics; since then, The General has undergone a reevaluation to be considered one of the most impactful films of the silent movie era. Keaton's death-defying stunts of the 1920s without all the modern safety protocols of today make Tom Cruise look like an amateur. If you've ever watched a crazy action sequence on a train, you have Buster Keaton to thank.
The Midnight Meat Train (2008)
This list would be remiss not to include at least one cult classic, and that honor goes to 2008's The Midnight Meat Train. Based on Clive Barker's short story, Bradley Cooper stars as a photographer who is determined to track down a serial killer the city has dubbed the "Subway Butcher." His investigations lead him to the subway and the killer, in one of the most grisly, body part-laden horror movie third acts around. The final twist is absolutely bonkers, moving The Midnight Meat Train from serviceable slasher to gonzo cult classic.
And finally, not an entire movie on a train, but the best scene ever involving one…
Butch Cassidy & The Sundance Kid (1969)
It's never not a good time when watching the legendary duo of Robert Redford and Paul Newman sharing a screen together. This particular exchange from Butch Cassidy & the Sundance Kid is one of the all-time understated comedic scenes thanks to the layers it holds: Butch's delight at realizing the clerk in the train is one they've previously robbed. The hapless clerk, Woodcock, nervously explaining they installed a safe this time to stop Butch and Sundance. Their ploy to get Woodcock to tell them which car the money is in. And perhaps the greatest deadpan delivery of a line ever: "Think you used enough dynamite there, Butch?"